Apologies
So sorry that this episode was delayed! I had some "mommy" business to take care of :0) When I attempted to record late last Thursday night, I spoke for almost 45 minutes only to look down and see that my microphone was off!! It was all just too much to bear, so I decided to delay the recording. Thanks for being understanding!
Introduce Yourself!!
On The Needles
Sleeping Baby's Castle Blanket
by Sally Rainey
Seeded Rib Sock by Lisa Beamer of
Fibernymph Dyeworks
and
the 90% Knitting podcast
My first test knit!!
I used the "Twisted German Cast On"
Off The Needles
Knitting Grrrs....I did SSKs instead SKPs in the applied lace border :0(
Yarn Review
100% Acrylic

I would recommend this yarn for children's knits, charity knitting, gifts for those allergic to natural fibers, and those who would not properly care for knits made from wool.

Read what other knitters had to say

here.
Spinning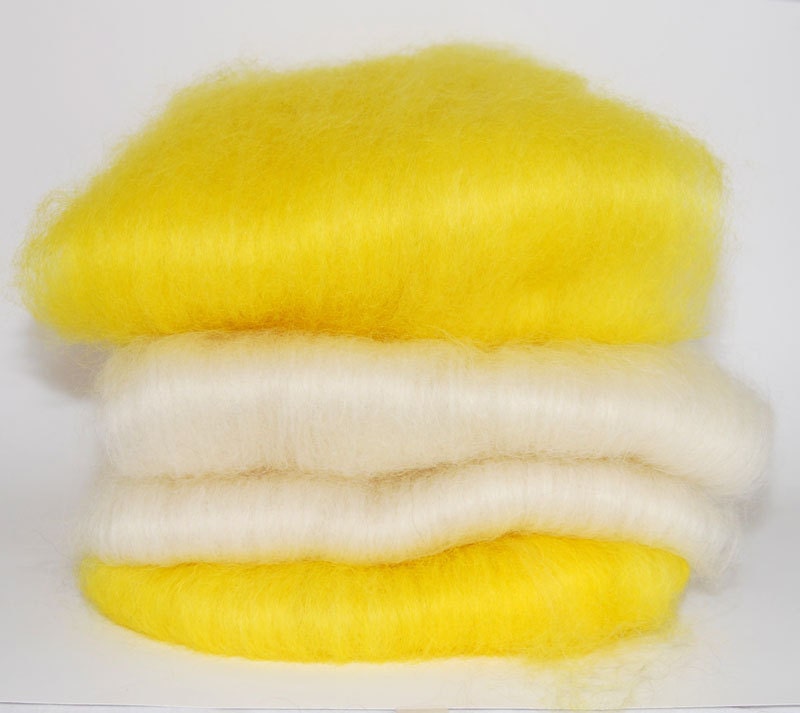 Masham Lemon Meringue Batts
photo from The Sheep's Company etsy shop
I have been trying out a short forward draw instead of moving my fiber hand back to draft.
Swaps/Coming Up
Knitting For Good
Marian (Marian1) pm'd me on ravelry to let me know about the YAI Project Assist Knit-A-Thon to be held on May 19th at The Village Knitter in Babylon, NY. You can make a donation to sponsor a knitter

here

. Please support Rick's Team (Marian's husband who started this event!)
Jibber Jabber
More information about Brenda Dayne's "A Memorable Yarn" can be found
here
.
My contribution: my first handspun!
Sewing
Can't wait to start sewing!
There's a thread to discuss your sewing endeavors
here
.
LoriAnn70 suggested a free pattern - a
Bevy of Bags
and created a fantastic photo tutorial for all of us!! Thanks!!
Mamaholmes wondered if anyone would be interested in a beginner's Sew-Along! I love the idea- who else is in??
Thanks
Thank you to HappyCrafter207 (Lori) for giving KB a shout out on her podcast
HappyCrafter207
.
Thank you to everyone who left iTunes reviews.
Thanks to
Andy Mullen
for "Brooklyn Rain" and for "Sun Goes Up, Sun Goes Down"